St Andrew's Facilities 
St Andrew's Uniting Church is situated close to the centre of Richmond.
There is a small parking area at the rear of the church and public parking available in the adjacent Council parking area.
Fully restored to Heritage specifications in 1992, the church has timber pews (with padded cushions) and wall panelling, providing a beautiful setting for Worship Services and Special Celebrations or Events.
Hand-decorated windows and two beautiful stained glass windows provide a 
feature. With the aid of a 'Heritage Near Me' Grant from the NSW Government, the eight church windows are currently being restored to the original condition.
On the Northern wall is the window, donated by the Woodhill family, celebrating St Andrew (pictured at left), and on the southern wall is Jesus The Good Shepherd, donated by the P.W.A. (pictured at right). Around the walls are some memorials to various individuals associated with the early church.
During 2016, St Andrew's Uniting Church was transformed into a movie set for the filming of the wedding scene in Mel Gibson's acclaimed movie, "Hacksaw Ridge". 
(picture - usage permission pending)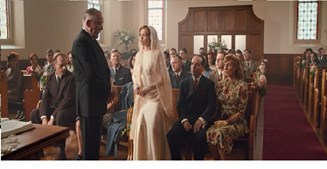 For more information on this Heritage-listed church, go to the History Page.
St Andrew's Centre
Opened in December 1996, this modern building is linked to the original Church and Hall. It provides a 180 seat Auditorium, Meeting Room, Offices and  storage for resources. Linked to a Council Parking Area and a small shopping mall, it is ideally situated in the centre of Richmond. As well as providing for our own needs for Sunday worship and various mission programs, it is also a regular meeting place for many other local groups and community organisations.
The Auditorium, Hall, Meeting Rooms and Kitchen are air-conditioned.
Both the Church and Auditorium are equipped with "hearing loop" facilities.
Use of St Andrew's Facilities
If you have an enquiry about the use of St Andrew's Facilities for a group, community activity or private function, please contact St Andrew's Centre Manager at the Contact Page.