Life Events
From time to time throughout life, most people will experience occasions of deep significance.  Some of these Life Events will be times of celebration and happiness.  Other situations involve significant sadness, loss or disaster.
St Andrew's Uniting Church is here to offer support and encouragement to you during such experiences, whether they involve celebration or whether it is a time of grief and sorrow. Please feel free to contact the church at any time if you wish to talk about, or seek support for any of these situations.
Some of the the most common Life Events in which the church may be involved are listed below:
Baptism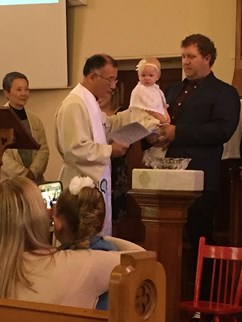 Baptisms (Child or Adult) may be arranged by contacting the church.  The dates and arrangements will be organised with our Minister.  
The Uniting Church believes in one Baptism, administered by water and carried out according to an encouraging, modern Order of Service which meets the requirements of the Uniting Church. Usually, Baptisms are conducted within a service of worship in which the Congregation is involved to welcome the child or older person into God's family, the Church.
A warm invitation is offered for you to join at St Andrew's Richmond for such special occasions.  If you wish, facilities are available for refreshments with your family and friends following the Service.
For parents who do not feel they cannot make the commitments needed for the Baptism of their child, St Andrew's offers the opportunity to have a Service of Blessing which may be achieved outside a regular Worship Service, if required.  These options can be talked through with our Minister.
Marriage
Weddings may be arranged at St Andrew's Uniting Church.
The Marriage ceremony is usually conducted by the minister of the church, to whom first enquiries need to be made.  Sometimes, Ministers or Pastors from other Uniting Church parishes or other denominations may be invited to share in the Service.
The Marriage Service itself follows the Order of Service authorised by the Uniting Church in Australia. 
The church is a Heritage-Listed building, built in 1845 and seats 170 people comfortably.  There is a traditional organ and piano for musical accompaniment and a Church Bell in the tower which may be rung to celebrate the occasion.
Please note that it is very important that before making any assumptions about arrangements, that you speak with, and meet with our Minister.
Be assured that St Andrew's will endeavour to make your important day as enjoyable and memorable as possible.  
---
The following information is provided to give some general guidance for your preparation to meet the legal requirements of Marriage. 
A Notice of Intended Marriage Form is to be completed and signed no later than one month and one day and no earlier than eighteen months before the day of your Wedding.  Normally this is done at the first meeting with the Minister conducting the Marriage Service, unless previously arranged.
Proof of age (Birth Certificate or Passport) is required by Law for both parties to the Marriage.
If either party has been previously married then proof of eligibility to re-marry is also required (e.g. Divorce Decree Absolute or Death Certificate of previous spouse).
Two witnesses, aged 18 years or over, are required to be present at the ceremony and to sign the official Marriage documents.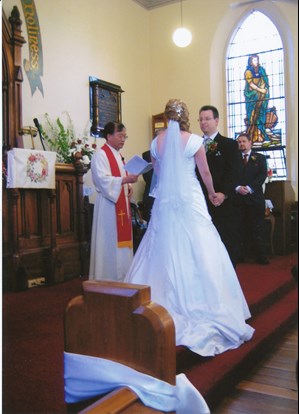 Preparation for Marriage
Preparation for your Marriage is essential, and will normally include at least two interview sessions with the Minister. These sessions give an opportunity  to discuss aspects of Christian Marriage and to plan details of your Marriage Service.  A rehearsal of the Marriage Service is arranged as close as practicable to the date of the Marriage.
An invitation to attend Worship Services and to take part in the life of this church is extended to you if you are not already involved in a Church.  Whilst not a mandatory requirement, we believe that attending Worship can be a helpful element in your marriage preparation; in understanding the elements of Christian Marriage, and in helping provide a firm foundation for your married life together.
The Marriage Ceremony:
Your Marriage Ceremony is a Christian Service of Worship. This means that the Minister is responsible for everything that happens at the Service. 
The Marriage Ceremony details will be discussed with you in detail during the initial interview with the Minister. 
Please make any final arrangements regarding musicians, soloists, music to be played, etc, only after these matters have been discussed with the Minister. Your Wedding Ceremony may be celebrated outside of the Church building, e.g. a garden setting, but please first confirm the suitability of the venue with the Minister before finalising such arrangements.
Photographers and Videotaping:
Taking of photographs during the service is certainly welcome. If you wish to have your wedding service video-recorded, there are certain restrictions because of Copyright Regulations, which need to be observed. Ask the Minister for details.
Wedding Fees
The Fees provide for the use of the Church, the Minister, Musician, Church Officer, flowers, administration, marriage preparation, as required.  Please contact the Minister for the available options and details.
Funerals
 The death of someone we love is one of the most difficult and trying times of our life. We can experience many different reactions and emotions and we sometimes struggle to make sense of what has happened.
At times like this, our thoughts may turn to God. We may feel angry and want to blame God for what has happened. We may feel a need to ask God to help us with our grief and loss. These different responses are natural. 
Our caring and sensitive Hawkesbury Zone ministers will assist you to prepare a funeral that is honouring, respectful and as individual as the person it commemorates. The minister conducting the funeral will spend time with you to develop a service, which celebrates the life of the deceased and allows you to work through your grief.
The funeral service may include prayers, readings from the Bible, sharing from family or close friends and a words of encouragement by the minister. You can talk freely with the minister about any special requests or wishes your loved one had for their funeral service.
We trust that the service and facilities of St Andrew's Church will help make your loved one's funeral a special time of remembrance and a celebration of their life.
If you need support in the event of a death of a family member or friend, please contact the Minister.
St Andrew's is here to help.