St Andrew's - a History
This page gives a brief history of St Andrew's Uniting Church, mainly drawn from the booklet produced in 1995 for the 150th Anniversary of the church.  The booklet is available here.

For completeness, we should imagine an overlay including aspects of Australian history; the development of Richmond; local government; the influences of the Presbyterian, Free Presbyterian, Wesleyan and Methodist Churches; and the decisions and prayers of many local citizens.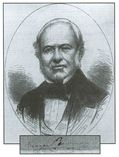 The generosity and initiative of local citizen, Mr George Bowman (pictured), and the spiritual integrity of Rev. Dr James Cameron, the first Minister, have been substantial influences in the formative years of St Andrew's, Richmond. he following table gives a sequence of significant events.
| | |
| --- | --- |
| 17 May 1798 | George Bowman, then 3 years old, arrived in Sydney on board the "Barwell" with his parents John and Honora, brother John and sister Mary. |
| 24 May 1820 | George Bowman married Eliza Pearce at Parramatta. |
| 1845 | George Bowman donated land in West Market Street for a church, and paid for its erection, completing the project in this year. |
| 12 Nov 1851 | Rev. W. Lumsdane was inducted as the first Minister of the new church. |
| 28 Feb 1856 | Rev. James Cameron was inducted as Minister, and the following year married Eliza Bowman, George and Eliza's eldest daughter. |
| 1877 | George Bowman erected a bell tower and clock at the front of the church, as a gift to the people of Richmond. |
| 26 Aug 1878 | George Bowman died, and was buried in the family vault in Richmond Presbyterian Cemetery (Jersey Street). Through the Will of his wife Eliza, a bequest of 2,000 Pounds exists (with interest) to this day, to assist with meeting the costs of a Minister's stipend. |
| 1861 | Dr Cameron erected a private residence adjacent to the Church, and following its later service as a Community Hospital, Nursing home and offices, it is now once more a private home. |
| 1876 | The Sunday School Hall was erected, at a cost of 344 Pounds. |
| 1892 | An Assistant Minister (Rev. James Kinghorn) was appointed to assist Dr Cameron in the Parish. |
| 8 Oct 1905 | Dr Cameron passed away, having served the Richmond Congregation for over 49 years. During his ministry he had twice been Moderator of the NSW Presbyterian Church, and was a great leader in many aspects of ministry. A brass memorial to his life and ministry on the front wall of the Church, and a granite monument in front of the church, commemorate his life. |
| 22 June 1977 | The Congregational, Presbyterian and Methodist Churches came into Union, forming the Uniting Church in Australia. After a short time of reduced services, the local services were soon all held in the Methodist Church in Paget Street, Richmond. |
| 1987 | Work began on the restoration of St Andrew's, with assistance from the Heritage Commission, to install damp coursing, repair the foundations, restore the timber pews and panelling, and repaint the whole building. This process took five years to complete. |
| 29 Nov 1992 | St Andrew's was reopened for worship with a celebratory Service, and the Methodist Church was advertised and then sold to the Reformed Church. |
| 1 Dec 1996 | After over four years of planning and construction, the new multipurpose Centre was opened at a total cost of $853,000 (not including private donations), linking the Church and Sunday School Hall and adding new offices, a meeting room, kitchen, auditorium and utility areas. |
| 30 June 2018 | Funding received through a Heritage Near Me Grant from NSW State Government to restore eight stained-glass, lead and timber double-hung windows in the church building.  Work to be completed by 30 June 2019.  |
 Photographs are reproduced here with the permission of Miss Elizabeth Bowman. An image of the Portrait of George Bowman is held in the State Library of NSW - Ref. 1090855.
**********
The "Then and Now" Booklet which contains some of the information from 170 Years of the history of St Andrew's is available here.
 150 years ago, the typical weekly routine for a Church Minister was vastly different from what happens today.
The Rev James Cameron, then Minister of St Andrew's Presbyterian Church, Richmond, commenced his Sunday by leading worship at St Andrew's.  Following a brief lunch break, he saddled up his horse and rode 15Kms to Kurrajong Heights where he led worship for the congregation of St David's Presbyterian Church.  On the alternate Sundays James Cameron would ride to Castlereagh Chapel, in place of Kurrajong Heights.
The commitment and passion for sharing the Christian message of love, hope and compassion gave Rev James Cameron the inspiration and drive to face the challenging horse-ride to be with the people he served.
Today, over a century later, St Andrew's Congregation still retains the same passion for sharing the good news of God's love for all humanity and to maintain this historical site as a place for worship and sharing of life in compassion and care.
You are always welcome at St Andrew's.
Sincerely
The Congregation of St Andrew's Uniting Church, Richmond